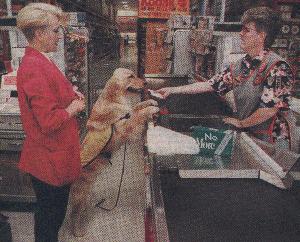 "Whisper" has been trained to assist the disabled. Here, she gives the cashier money for a purchase.
I have made appearances on local television shows and articles have been written about myself and trained dogs in the Washington Post and Washington Times. I have made appearances at some colleges and local schools. My personal goal is to train every guest as if they were my own.
We offer a 3 and 4-week training program. No evaluations will be made over the phone or through e-mail. A personal and extensive evaluation of each pet must be made. Every pet is unique and the method of training of each guest is specifically designed for that pet. This includes training methods, motivational tools, exercise, and feeding schedules. A typical 4-week program includes 3 weeks of on site training and the last week is total off site training. Off site training includes going to bus depots, shopping malls, and parks loaded with children and activities to serve as distractions for the pet in training. It is normal and customary to have every in board training pet spends time within our home in order to teach and instruct house manners.